The Unique Style of
Julie Beckett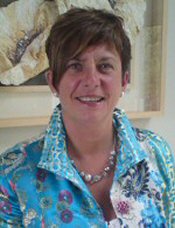 Based in County Kerry, the talented Yorkshire artist Julie Beckett is rapidly making a name for herself as an innovative Impressionist-style painter of flowers and landscapes.
Employing a variety of mixed media for a three-dimensional effect, together with a rich oil finish, her flower paintings beautifully capture both the fragility, and strength of each flower. They are noted for their 'living' nature, due to the luminous quality of the oils.
Lately, Beckett has introduced hand and machine sewing techniques, along with metal finishes into her mixed media paintings. This can be seen in paintings such as 'My House' and 'Scoil'.
Originally from the North of England, Beckett moved to the Dingle Peninsula in the mid-1990s. Inspired by the local scenery, as well as a fascination for creating different textures, she has since developed her unique style of landscape painting which more than does justice to the natural world around her.
More recently Beckett has been exploring previous themes using the intaglio technique of etching onto copper After a lengthy process using acid and various tools, a plate is eventually made, from which editions of the drawing can be made by hand using a printing press.
Beckett's paintings are represented in a number of private collections in Ireland, England, Holland, Israel and the United States.
Julie welcomes you to view her own unique style of paintings by appointment at her studio in Ballyferriter.
Commissions welcome.